DA 34 TE MH. YRAE, February 349

No, I have no more strength to bear it! O God what are they doing to me! They pour cold water on my head! They don't heed me, don't see me, don't listen to me! What have I done to them? What reason have they for torturing me? What do they want from me in my misery? What can I give them? I have nothing. I have not the strength, I cannot suffer all their tortures, my head burns, and everything is circling about me. Save me! Take me away! Give me a troika, steeds swift as the whirlwind! Drive on, man, let my bell ring out, soar upward steeds, bear me from this world! Further, further, that nothing may be seen, nothing. The sky whirls before me; a star glitters in the distance; the forest rushes on with its dark trees and the crescent moon; a violet mist carpets the ground; the string vibrates in the mist; the sea is on one side and Italy upon the other; and now the Russian huts appear. Is that my house that grows blue upon the distance? Is that my mother sitting before the window? Mother, save your wretched son! Drop a tear upon his aching head! Look how they torture him! Clasp a poor orphan to your breast! There is no place on earth for him! They are casting him off! Mother, have pity on your sick child!

(from The Diary of a Madman by Gogol)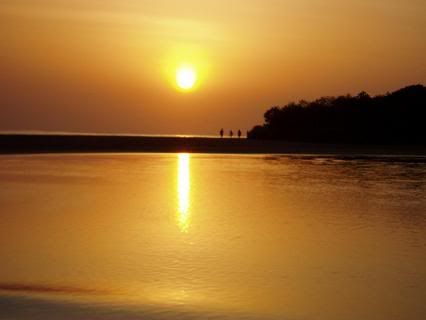 i have wanted to write since it happened and yet every time i sat down to do so, my mind swirled and i could not. the passage from gogol came to my mind this week over and over. the picture is of arugam bay on the east coast of sri lanka. it was a wondrous sunrise after an amazing evening on the beach. the laughter of that night continuously echoes and the faces stream through my mind. this place no longer exists, swept away by the tsunami.
for days after the tsunami hit i was stunned. i could not sleep at night, i kept seeing the faces of the sri lankans with whom i had lived, worked, and traveled this summer. the small island where we went snorkeling doesn't even exist. places that had been closed off by war till recently, like batticoloa or jaffna, have now been devastated by the waves.
i called colombo and spoke with various friends. thankfully, most of the people i knew were safe, but all of them had lost family members or friends. some of the australians i knew are still missing, now presumed dead. a grad student here lost 9 members of his family: his parents, his wife, his brother, and his young children. one of my roommates from the summer may be going back to aid with the relief effort. my relatives in orissa, india felt the aftershocks of the earthquakes. galle face road, where we used to take nightly strolls, has been destroyed as it approaches galle.
i visited a friend from sri lanka who happened to be in ohio for break. she was numb. i did not even have words to comfort her. i do not have any words of comfort.
now back at school, it seems a dream. a horrible nightmare. the beautiful places of my summer. the battered people who were rebuilding their lives after the war, now the poorest of them facing a tragedy beyond description. we are raising money through the local mosque which will be sent directly to villages in sri lanka, india, indonesia, and somalia.
also sri lankan airlines has agreed to fly medicines back for free from ny. we are collecting medications. i have a list from the colombo red cross. we are organizing trips to new york to deliver them. contact me if you can donate any medical supplies, i will send you the list of what they need.
please donate wherever you can. i know many companies have plans to match funds with their employees, take advantage of these. also there is the
Red Cross
,
Islamic Relief
, or
many others
.
i spoke with a friend who has been driving back and forth to the east coast of Sri Lanka with supplies. he has never seen so much death: stepping and tripping over bodies.
hum to samje the ke, barsaat me barse gi sharaab
aayi barsaat tho, barsaat ne dil tordh diya